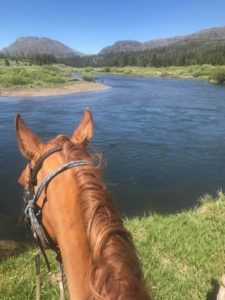 Behind my horses ears. Buffalo in distance.
When I was 18 I spent one whole summer in the head of Lamar. I was packing for the park service and Jim Hotchkiss was the horse and mule boss, he taught me more than anyone about packing and taking proper care of gear. A tough but fair man.
It was the greatest, wildest summer of my life. I was in charge of eight animals and drove them in an open stock truck. I'd put the gear overhead on a rack above the cab. A ramp would lower down with a hand winch to unload and load mules.
Bill Foster gave me my driving test in Mammoth. He said I've watched you drive every kind of vehicle in Jardine but I need to go through the motions.
I'd pack supplies in on Monday to the conservation corp kids and come out Saturday to get more. We built a trail to Frost lake. There was six young adults. Jim Peppin, George Woods, if you're reading this, say hi.
Respectfully Warren